A campaign to inspire action against period poverty
GROUP PROJECT | 4-DAY SPRINT
RESEARCH, BRAND STRATEGY, PRODUCT DESIGN, UX/ UI DESIGN
This project is was awarded a Wood Pencil at the D&AD New Blood Awards in response to a McKinsey Design & The Case For Her brief.
I collaborated with my entire group to conduct research and shape the strategy. Individually, I designed the digital touchpoints (desktop and mobile) and created the case study video.
Photoshop, Sketch, Keynote, Final Cut Pro
Opening up a conversation about basic human dignity.
Every year, over 40 million women in the U.S. struggle to afford menstrual products.
Without proper products, menstruators living in poverty are forced to create makeshift pads and tampons out of things like rags, socks, and even leaves, which negatively impacts their health and dignity.
Meanwhile, we're in the midst of a period revolution for the elite.
Millennials with money are excited about menstrual cups, period underwear, and organic tampon subscriptions from trendy brands like Thinx, Saalt, and Cora. Meanwhile, many Americans lack the basics for managing their cycles.
For every woman who lacks access to menstrual care each month, there are three women who might be able to help.
Introduce privileged menstruators to the harsh reality of period poverty.
Anyone who's had a period can identify with the distress of not having a tampon when you really need one. While all women know this feeling, "privileged menstruators" have never had to question having financial access to menstrual supplies. Our goal was to wake up this audience to the realities of period poverty, and galvanize them to help.
Launch a campaign for what looks like the trendiest new period products brand to raise awareness for everyday period poverty.
On behalf of PERIOD.org, we'll introduce dottie– a fake brand playing up the tropes of trendy, Red Antler-spun, minimalist brands currently infiltrating millennials' Instagram feeds– to raise awareness and inspire donations to end menstrual inequity.
ads that demand a closer look
Upon first look, dottie will appear to promote low-quality menstrual products, like moss and leaves, with a sleek, high-end visual style.
Closer inspection of dottie's ads reveals the true message: these unhygienic alternatives are the norm for many menstruators.
a (fake) e-commerce site driving donations
Dottie's website– designed to mimic the aesthetic of a trendy e-commerce site– serves as a hub for education and driving donations to the cause.
To donate, users select a donation amount in order to "replace" unsafe, unhygienic items with the proper care.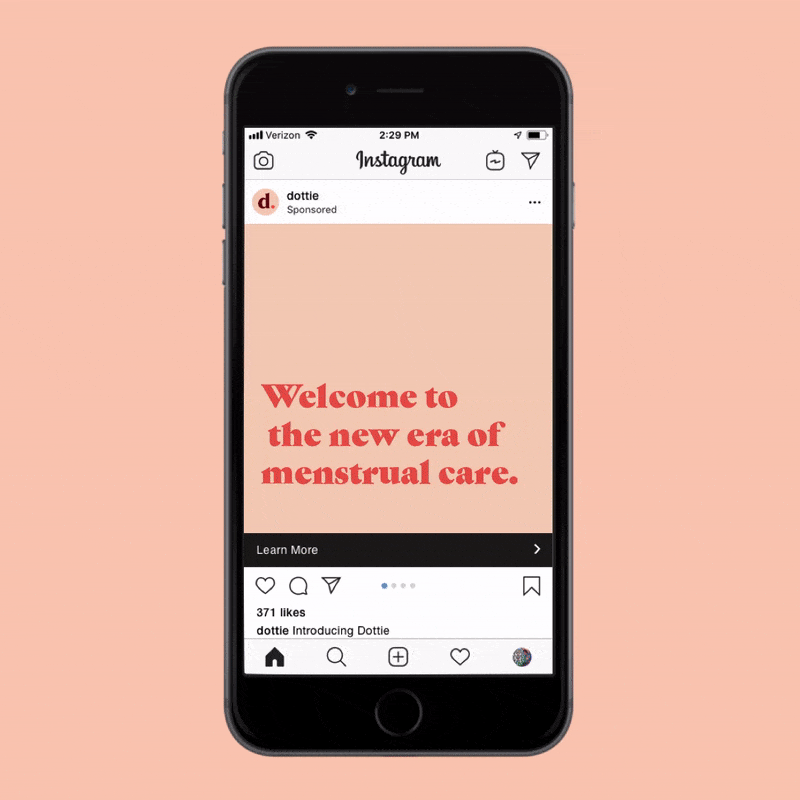 calling audiences to action on social
The campaign encourages privileged menstruators to donate or get involved with PERIOD.org.
In the donation process, a prominent recurring gift option plays off the idea of trendy monthly subscription services.
Supporters receive a thank you email to confirm their donation and a follow-up postcard detailing the shelter at which their gift made a difference. Larger donations would receive t-shirts promoting dottie x PERIOD.org's message and mission.
Case Study Video
TLDR? Here's a 90-second summary of what dottie's all about.
Created in collaboration with: