Creating more wags and less waste through a new, circular model for dog toys
INDEPENDENT STUDY | 8 WEEKS
RESEARCH, BRAND/ INNOVATION STRATEGY, VISUAL DESIGN & BRAND IDENTITY, SERVICE DESIGN, PRODUCT DESIGN
I independently conducted research, developed the strategy, and sketched the business model and service concept. I created the brand's logo and visual identity system and designed all touchpoints from packaging to UX/UI for web.
Sketch, InVision, Photoshop, Illustrator, AfterEffects, Keynote, Physical Prototyping
The pet industry's first-ever closed-loop service.
Over 180 million dog toys will end up in a landfill this year.
Today's "dog parents" revel in spoiling their pups with the very best of everything– from toys to birthday treats to human-grade food– but their expectations fall short when even "indestructible" toys are shredded within minutes, causing undue waste for the planet and deep frustration for consumers.
"My dog will shred any toy within minutes. It's frustrating to spend money on things that I know won't last. I've tried getting him the 'unbreakable' toys but the rascal manages to destroy those too."

- Daniel, Boxer Owner
What if we could have everything we want for our dogs without creating so much damage, to both our wallets and the environment?
Toys help dogs stay healthy and happy, but acquiring them can become an expensive, frustrating, and wasteful process. No brand has taken the initiative to deliver key consumer benefits while also solving for an inevitability: destruction.
A closed-loop dog supply brand
Rascal & Co. offers a zero-waste subscription service centered around the dog owner's need for better value in the toys they purchase.
By disrupting the ineffective cycle of "buy, destroy, toss," Rascal is committed to creating value for customers, improving the planet, and restoring the joy of play.
The Rascal Pack
Rascal & Co.'s core product offering, the Rascal Pack, is shipped to subscribers with toys customized to the specific habits and preferences of each dog.
Disrupting the way we buy dog toys
By moving customers to an ongoing subscription model rather than a one-off purchasing pattern, Rascal eliminates the inconvenience of having to return to the pet store over and over again for new toys.
A frustration-free method for dog owners to keep playtime fresh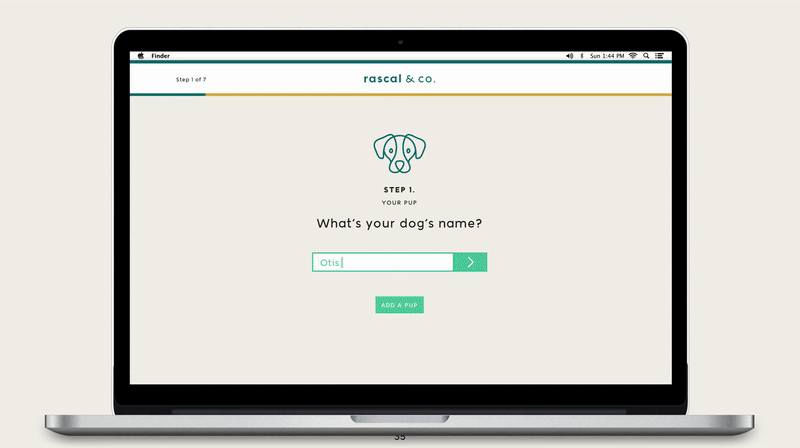 To get started, users input their dog's toy habits and preferences and select a frequency for receiving fresh toys. 80% of all dog owners surveyed purchase new toys on either a one, two, or three month basis.
Users receive three toys per shipment. Importantly, they're instructed to hang on to the bag to fill it up with any toys (or toy parts) as they become destroyed.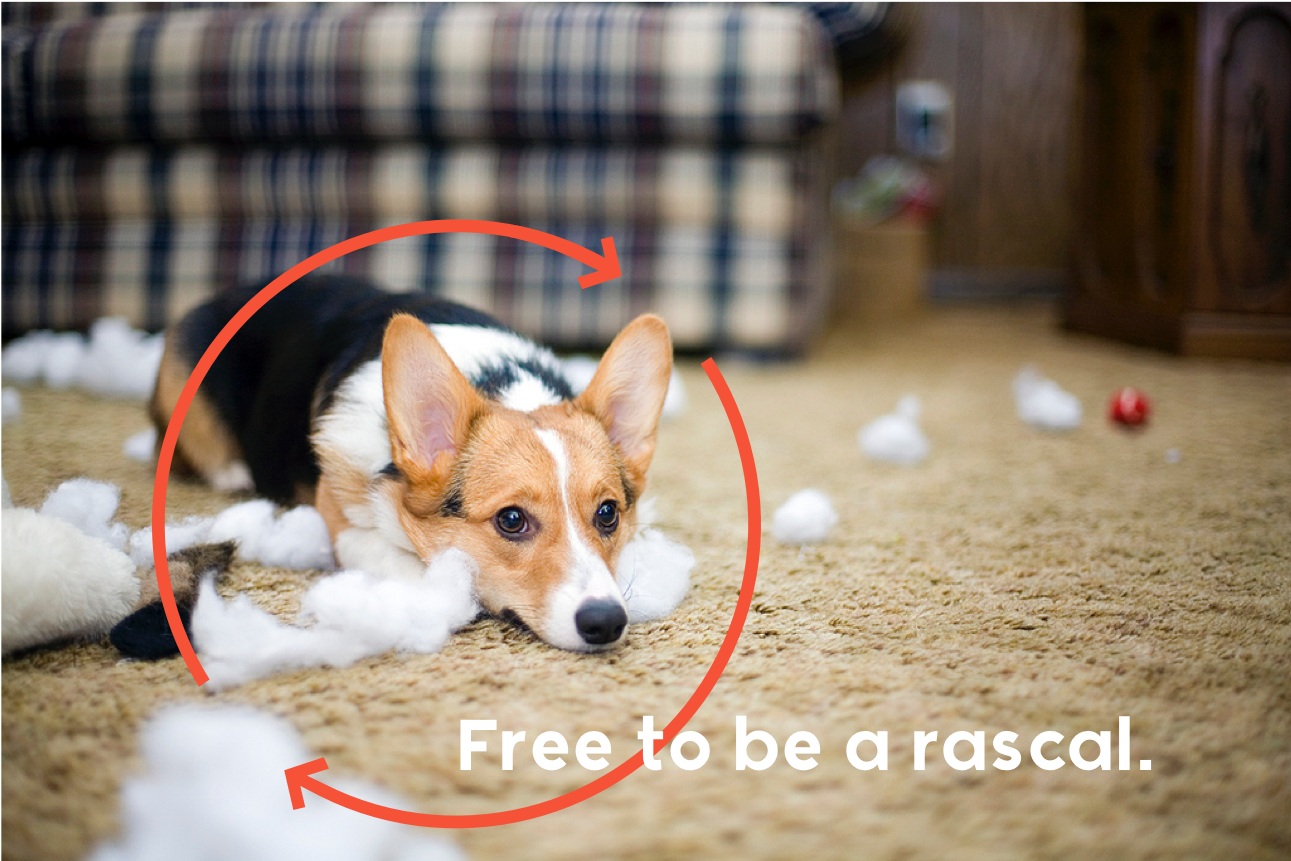 Rascal takes the guilt out of toys being wrecked right after they're purchased– since they'll be used to make new toys and earn the shopper Impact Points.
The service includes a simple, easy process for returning damaged toys in the original packaging so that they can be remanufactured into new toys.
In the return process, users provide feedback on what worked and what didn't (many dog owners repurchase toys, thus the option to "send again").
Once returned, materials are deconstructed, sorted, decontaminated, and remade into new toys.

Each time a subscriber sends back toys, they earn Impact Points that equate to landfill waste, material, and energy savings in the remanufacturing process. Points can be used toward discounts on future shipments.
The eco-conscious millennial pet parent
They see their dog as their "fur child" and are highly engaged in shopping for them. They care more than their parents' generation about buying from companies they believe have environmentally sustainable practices– and are willing to dish out extra in support.
For this audience, it's about giving their pets the best quality in everything. Although they aspire to always do what's best for the planet, they're most likely to adhere to eco-conscious behaviors when it's convenient.
Doing what's best for people, pets, and planet
Rascal & Co. envisions a better world for dogs and humans to live and play. As such, the approach toward product and service design is simple: make things better for people, pets, and the planet.
PEOPLE-CENTERED SERVICE
Provide a customer-centric service that creates longterm value and added convenience in each dog owner's life.
PET-CENTERED PRODUCTS
Build high-quality toys to foster pet health, maximize the joy of play, and satisfy each dog's specific preferences & personality.
PLANET-CENTERED PROCESSES
Cause no unnecessary damage to the planet through a closed-loop system powered by renewable energy, and continue to innovate to make the planet a better place.
Design Process
PERSONAS & USER JOURNEY
RESEARCH
Key themes and insights emerged from primary research, which included ethnographic interviews and surveys, and secondary research, which focused on consumer and market trends. I also looked at a lot of dog toy collections.
TOY DESIGN VISION
For the purpose of this project, "toys" refers to any man-made, manufactured dog toy (i.e. synthetic bones, plush toys, rope toys, etc.). This definition excludes all-natural toys (like antlers) or anything can be ingested (like raw hide or Bully sticks).
The toys represented throughout this project are not of original design– however, I created design guidelines and key considerations for this work to be undertaken in the future in collaboration with others.
LEARN MORE
Check out my articles on Medium to learn about the project's backstory and my exploration of circular design methodology.
Spoiler alert: My 5 year-old Lab, Berkeley, was the inspiration for this project (and you might recognize him from the logo). I nicknamed him "the shredder" as a puppy for reasons you can probably now guess.